Welcome
La Maison Du Port
Stefano and Nicola welcome you to "La Maison du Port".
Our guesthouse is located in Pacengo, a hamlet of Lazise, ​​a few steps from the shores of the lake, in an area known for its thermal waters. It is an elegant and unique residence in the originality of its style.You will have the chance to reach the fun parks with ease. We are opposite Movieland and Canevaworld, 2 Km from Gardaland and Sealife, 7 km from Parco Natura Viva, 11 km from Parco Sigurtà Garden. Our area is also known for its gourmet food and wine routes through which to discover traditions and cultures, to get lost in events and exhibitions, to take long walks for the splendid landscapes present. Maison du Port is the perfect place for families who want to find comfort in their own home for business people looking for a bit of tranquility for a dream holiday in a romantic and discreet setting, For all those who want to take care of themselves in a serene and comfortable environment.
Stefano will welcome you and will accompany you to one of the 6 air-conditioned rooms where you will find free internet access, a crib for children (to be requested at the time of booking), television, mirror and luggage rack, mini-bar. All our accommodations are located on the first floor and have a private bathroom with shower. We will give you the good morning in the new bright breakfast room where you will find a rich sweet and savory buffet. The possibility of re-entering any time of the night, parking and a large terrace complete the services at your disposal.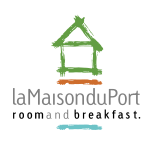 La Maison Du Port
Accomodations
From 2017, on the ground floor, you will find a delicious Bistro bar where Nicola prepares you very good sandwiches, salads, cold dishes and where you can have a good fresh beer sitting in the open air. Live music and sports events on TV, the Bistrò du Port-Barticolare is open every day from 9:00 to 21:00. You can also bring your four-legged friends with you, with a small supplement of Euro 10,00 per stay.
Our facility is equipped with disabled access but not in wheelchair, unfortunately.
We will do our best to provide you with the information you need in English and German also in Italian.
WELLNESS
Terrace Solarium
A stunning sun terrace with a lovely lake view, where to spend time in full relaxation.
"
Fun, sports, culture, relaxation, nature and enogastronomy … await you for an unforgettable stay."
LA MAISON DU PORT
Special thanks to our parents Enzo and Nadia who helped us realize our dream.
A special greeting to Mrs. Luciana who managed La Maison du Port with so much love.
"Strategic location for the amusement parks of the Garda Riviera, nice welcome, lake view, structure and comfortable rooms and general services ok. I highly recommend to anyone who wants to spend the holidays in these magnificent places!"
Stefano da Genova, Tripadvisor
"Great value-price! Clean rooms, abundant breakfast, very welcoming location and very friendly and helpful owners. We can only give 5 stars! Absolutely to try ….. We will definitely be back!"
Luca da Treviglio, Tripadvisor